P-2 Metallographic Sample Polishing Machine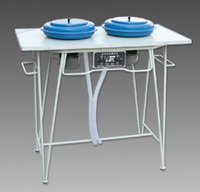 Product Name: P-2 metallographic sample polishing machine
Product introduction
P-2 metallographic sample polishing machine (hereinafter referred to as the polishing machine) is applicable to the polishing of the metal materials for polishing, can be bright as a mirror of the metal surface, for observation and determination of microstructure under the microscope.
technical parameter
1. Dump diameter: Φ 200mm, double disc
2. Dump speed: 1340r/min
3. Motor: 0.18Kw, 3 phase, 380V.50Hz
4. Exterior dimension: 900 * 500 *915 mm
5. Net weight: 43kg
Summary of structural features
The polishing machine is composed of welding bracket, countertops, polishing, polishing cloth, polishing cover and basic components of switch box. The work table is provided with two discs, for two people at the same time, the use is very convenient. The two motors are arranged in the table below, the fixing sheet is connected with the table top fixed. Polishing with taper sleeve is connected with motor shaft through screws. The polishing fabric through the ferrule fastening on the polishing disc, motor starting and stopping can be respectively controlled by the installed in the switch box on the switch, motor starting, then to the specimen by hand pressure polishing on the rotating polishing disk polishing liquid. Join in the process of polishing can be discharged through the plastic plate drainage tube fixed on the table. The polishing cover and cover can prevent dust and other impurities in the machine is not in use is falling on the polishing disc and the use effect.